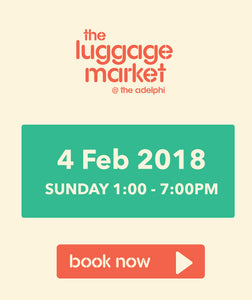 The Luggage Market Booth | 4 Feb 2018
Regular price $89.99 Sale
As the market name suggest, you'll sell from your luggage. No fuss unpacking to sell and packing back at end of the flea. Let's swag it like the original flea seller!
Includes: 1 x Booth Space with [1 x Lawn Mat 1.3m x 1.0m + 2 x Stools]
Location: The Adelphi, Level 1 wide walkway  
Note: Strictly for sale of preloved fashion items only -- apparels, shoes, bags and accessories.  Organizer reserves the rights to ask Vendor(s) to remove items which are deemed unsuitable.
Vendor(s) are only allowed to set up on the day of the event after 12.00pm, unless otherwise stated. Vendor(s) who did not show up after 1:00pm may result in forfeiture of booth.
Pre-Service: Luggage Delivery
Deposit up to a maximum of 2 x luggages/bags per order.
Drop off timings are between 6:00-9:00pm on the day before the event (Saturday) at these following locations: 
Jurong East MRT 
Khatib MRT
Tampines MRT
Sell away!
#theluggagemarket