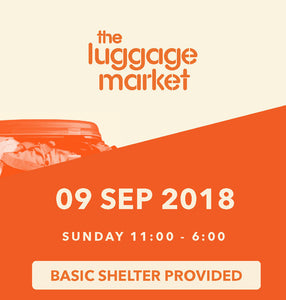 The Luggage Market Booth | 9 Sep 2018
Regular price $66.00 Sale
As the market name suggests, you'll sell from your luggage. No fuss unpacking to sell and packing back at end of the flea. Let's swag it like the original flea seller!
Note: This is an outdoor event with basic shelter provided. The tentage provided is only a good shield for sunlight and moderate rain. Should there be heavy downpours, the tentage will not be sufficient. You are advised to bring your own covers/gears to prepare for wet weather. 
Time: 11:00am - 6:00pm
Location: Tanjong Katong Complex (Paya Lebar MRT Exit D)
Includes: 
(1) 1 x Lawn Mat 1.3m x 1.0m + 2 x Stools
(2) Buy-In Service 
Note: Strictly for sale of preloved fashion items only -- apparels, shoes, bags and accessories.  Organizer reserves the rights to remove items which are deemed unsuitable. Tables, racks and any other furniture to elevate your luggage are not allowed to maintain the setup of the market. 
Vendor(s) are only allowed to set up on the day of the event after 10.00am, unless otherwise stated. Vendor(s) who did not show up after 11:00am may result in forfeiture of booth.
Sell away!
#theluggagemarket 
 -------------------------------------------------------------------------------------------------------
BOOTH ALLOCATION
Allocation of the booth will be given 5-7 days before the event date via email. Booth will be assigned on random basis, no disputes will be entertained. 
 -------------------------------------------------------------------------------------------------------
BUY-IN SERVICE
Calling all who dread lugging back their unsold clothes, <The Luggage Market> will buy your unsold items at the end of the flea at the following flat rates:

Terms & Conditions:
Maximum of (5) bags per booth 
Bag refers to Large Singlet Bag 20" x 35" will be provided
Items must be in wearable condition; torn, defective or worn-out pieces will not be accepted. Shoes/Bags are not accepted as well.
Payment will be given in cash on the spot
<The Luggage Market> reserves the right to assess the items
Note: Our crew will approach your booth at 5:00pm to offer the service